Gluten Free Thieves Pumpkin Bread
GLUTEN FREE THIEVES PUMPKIN BREAD
If you love Essential Oils, all things Fall, and Bread, but you're gluten free you definitely want to try my Gluten Free Thieves Pumpkin Bread.
Alright you guys, I've never posted a recipe before, but there's a first for everything, am I right? This is my Gluten Free Thieves Essential Oil Pumpkin Bread. Now you might be like, "BRIDGETTE, YOU'RE NOT SUPPOSED TO CONSUME ESSENTIAL OILS." and that's where I say, "But Youngliving makes a Vitality line, that you can cook with and consume." That's the cool part, this bread is extra delicious, and sort of good for you.
Now, it's not healthy, it's just got less harmful ingredients in it. It's gluten free and had thieves in it. I'd say that's "kinda good."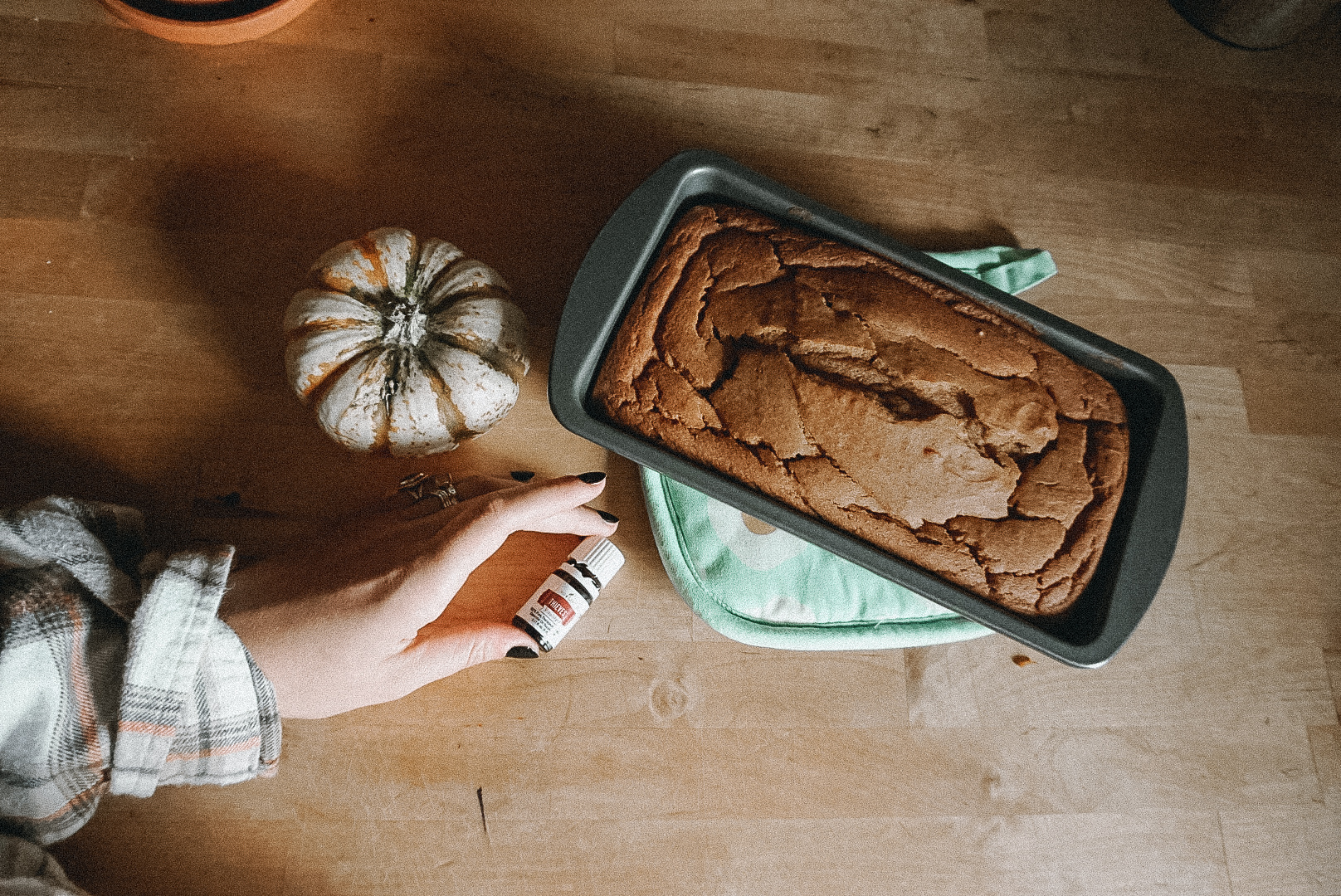 about how great this bread is, now it's time to get into the directions!
First things first, get yourself a bread pan, you could get one here.
Next, set your oven to 350 degrees.
Get a big glass bowl.
I always mix my wet ingredients before I add the dry, I find it's easier to stir that way.
Grab your bottle of Thieves Vitality and put in 5 drops
Add 1 1/4 cups pure Pumpkin puree
Crack open large 3 Eggs
Throw in 1 stick unsalted Butter
Drop in 3/4 cup Buttermilk
Add 1 1/4 cups Sugar
Pour in 2 tsp pure Vanilla extract
STIR IT UP
Now to add the dry ingredients
Dump in 1/2 tsp ground Nutmeg
Pour in 3/4 tsp fine pink Himalayan Salt
Now add 1 1/2 tsp Baking powder, gluten-free
Mix in 1/2 tsp Baking soda
Then add in 1 tsp ground Cinnamon
Finally, add 1 3/4 cups Gluten-free all-purpose flour

MIX IT UP AGAIN
Now, Throw it in the oven for 1 hour and 10 minutes.
IT'S TIME TO TAKE IT OUT OF THE OVEN
Let it sit for 10 minutes
Now, enjoy and don't forget to share a picture of your bread, use hashtag #alwaysaugustbakes